Oil Plus Sample Set
Colors and protects in one single layer
---
Oil Plus Sample Set is backordered and will ship as soon as it is back in stock.
Couldn't load pickup availability
Free Ground Shipping to the Contiguous U.S. on orders > $49

Most orders placed by 12pm CST ship same day
How much will you need?
Please note: Calculations are estimates. Your results may vary based on species, water popping, sanding, etc...
Enter the square feet you need to cover:
The Oil Plus Sample Set contains 20 ML sample sizes of Oil Plus Part A in the 40 original colors offered by Rubio Monocoat. This is the ideal kit if you enjoy sampling colors, creating custom colors, or need a variety of options to choose from.



Spread Rate

Spread Rate by Packaging

Cure Time

VOC Content

Color Options

Dilutable

Shelf Life

Combustion warning
Oil Plus Sample Set has achieved the following certifications:
Helpful links and documents to learn about the product.
An overview of instructions. Please consult the TDS for complete product information.
Payment & Security
Payment methods
Your payment information is processed securely. We do not store credit card details nor have access to your credit card information.
Frequently Asked Questions
Is Oil Plus 2C safe to use on cutting boards?
Is Oil Plus 2C food safe?
Is Oil Plus 2C really 0% VOC?
How can I add more sheen?
How long does Rubio Monocoat last?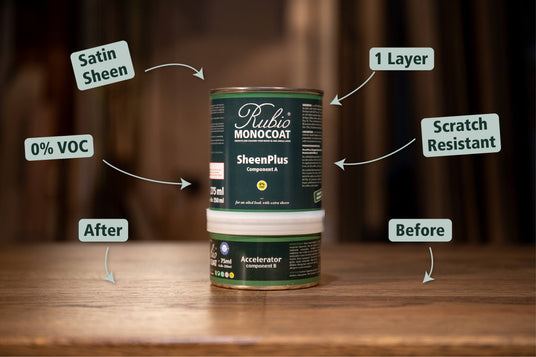 For an oiled look with extra sheen
NEW: SheenPlus
SheenPlus is a 0% VOC sheen enhancer that provides a durable satin look to wooden surfaces that have been finished with Oil Plus 2C wood finish.