WoodCream
---
WoodCream - 30 ML / Bold Black is backordered and will ship as soon as it is back in stock.
Couldn't load pickup availability
Free Ground Shipping to the Contiguous U.S. on orders > $49

Most orders placed by 12pm CST ship same day
How much will you need?
Please note: Calculations are estimates. Your results may vary based on species, water popping, sanding, etc...
Enter the square feet you need to cover:
WoodCream

is a breathable, hydrophobic, wax-based cream that colors and protects vertical exterior wood and makes it water-repellent. The hydrophobic WoodCream technology, in combination with its unique cream structure, offers important product and application benefits. This moisture-regulating cream provides water-repellent and self-cleaning wood protection.

Wax-based, hydrophobic cream
VOC Free
Non-film forming (No flaking/chipping)
Breathable
Low consumption
For vertical exterior surfaces only
1 or 2 layers depending on desired look
Dilutable using WoodCream Softener
Spread Rate

Cure Time

VOC Content

Color Options

Dilutable

Shelf Life

Warning
Helpful links and documents to learn about the product.
An overview of instructions. Please consult the TDS for complete product information.
Payment & Security
Payment methods
Your payment information is processed securely. We do not store credit card details nor have access to your credit card information.
Frequently Asked Questions
Is WoodCream really only for vertical surfaces?
Can WoodCream be used for interior applications?
Can WoodCream be applied on all species?
Does WoodCream protect against UV rays?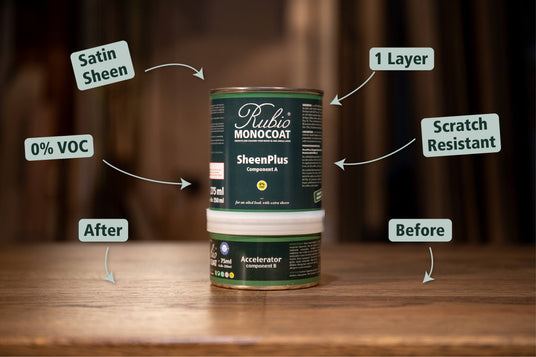 For an oiled look with extra sheen
NEW: SheenPlus
SheenPlus is a 0% VOC sheen enhancer that provides a durable satin look to wooden surfaces that have been finished with Oil Plus 2C wood finish.