SheenPlus
For an oiled look with extra sheen
---
SheenPlus - 130 ML is backordered and will ship as soon as it is back in stock.
Couldn't load pickup availability
Free Ground Shipping to the Contiguous U.S. on orders > $49

Most orders placed by 12pm CST ship same day
How much will you need?
Please note: Calculations are estimates. Your results may vary based on species, water popping, sanding, etc...
Enter the square feet you need to cover:
Rubio Monocoat SheenPlus is a 0% VOC sheen enhancer that provides a durable satin look to wooden surfaces that have been finished with Rubio Monocoat Oil Plus 2C wood finish. This product may be applied on all indoor wood surfaces, including furniture, countertops, tables, stairs, walls, floors, etc., finished with Oil Plus 2C. The combination of the oil (A) and accelerator (B) ensures a fast cure time, resulting in excellent protection. Plus, it's solvent and water-free.

Sheen enhancer: Increase the sheen on surfaces finished with Oil Plus 2C. SheenPlus achieves a long-lasting satin finish that complements any color of Oil Plus 2C, giving your creations a timeless allure. 

Easy application: Save time and labor with an efficient one-layer application. Experience rapid curing, no overlaps, and the flexibility to apply by hand or machine.

Easy maintenance: Hello stress free maintenance! SheenPlus offers a significant edge over traditional build finishes by eliminating the need for sanding during recoats. Furthermore, freshly renovated surfaces are ready for light use within just 24 hours, and the added perk of local repairs makes it a breeze to keep your surfaces in top-notch condition.

Eco-friendly: SheenPlus is 0% VOC, 100% solid content, and made from natural ingredients, making it safe for the user and the environment. The high spread rate also means reduced packaging and transport costs. Certified toy safe. 

Polyurethane alternative: Avoid building up multiple layers of plastic over your wood surface. SheenPlus is a polyurethane alternative with the following advantages: eco-friendly, applies in 1 layer, can be locally repaired, no need for intercoat abrasion, no need for sanding prior to recoat. Keep the look and feel of real wood but with an added luster. 
Spread Rate

Spread Rate by Packaging

Cure Time

VOC Content

Dilutable

Shelf Life

Dry Time

Warning

Combustion warning
Helpful links and documents to learn about the product.
An overview of instructions. Please consult the TDS for complete product information.
Payment & Security
Payment methods
Your payment information is processed securely. We do not store credit card details nor have access to your credit card information.
Frequently Asked Questions
Can SheenPlus be applied on raw wood?
Can SheenPlus be applied over Universal Maintenance Oil or Refresh Eco?
Can I apply SheenPlus to a surface that has already had Oil Plus 2C on it for a while?
Will applying multiple layers of SheenPlus increase the sheen level?
How soon can I apply SheenPlus after Oil Plus 2C has been applied?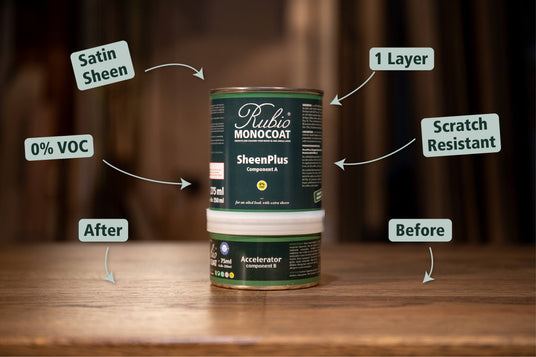 For an oiled look with extra sheen
NEW: SheenPlus
SheenPlus is a 0% VOC sheen enhancer that provides a durable satin look to wooden surfaces that have been finished with Oil Plus 2C wood finish.