WoodCream Softener
---
WoodCream Softener - 100 ML is backordered and will ship as soon as it is back in stock.
Couldn't load pickup availability
Free Ground Shipping to the Contiguous U.S. on orders > $49

Most orders placed by 12pm CST ship same day
WoodCream Softener is a product that allows you to decrease the color intensity of the WoodCream colors and create a more transparent or aged effect. WoodCream Softener is also used as a mix-in when performing a maintenance application of WoodCream.

0% VOC
Reduces solid content without changing viscosity
Extends dry time, making it easier to work with in hot conditions and reducing the risk of overlaps
Reduces layer build-up when maintaining WoodCream and when WoodCream is applied in 2 layers.
VOC Content

Dilutable

Shelf Life

Warning
Helpful links and documents to learn about the product.
An overview of instructions. Please consult the TDS for complete product information.
Payment & Security
Payment methods
Your payment information is processed securely. We do not store credit card details nor have access to your credit card information.
Frequently Asked Questions
Is the WoodCream Softener just WoodCream without pigment?
Is there a use time after mixing WoodCream and WoodCream softener?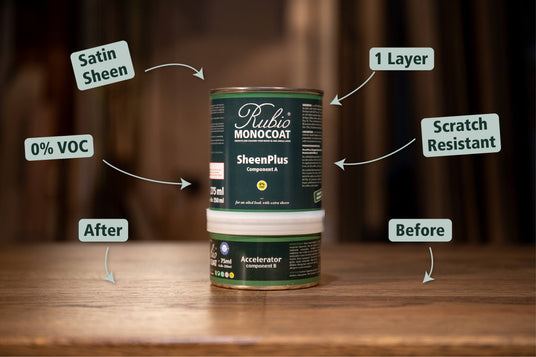 For an oiled look with extra sheen
NEW: SheenPlus
SheenPlus is a 0% VOC sheen enhancer that provides a durable satin look to wooden surfaces that have been finished with Oil Plus 2C wood finish.